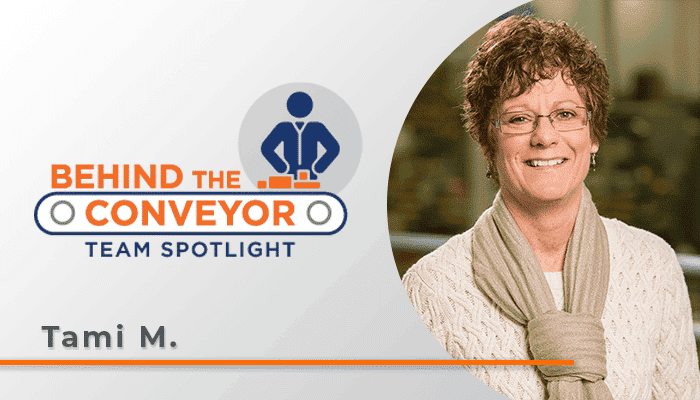 Behind the Conveyor – Team Spotlight
Dorner has become a global brand in conveyor automation – and that's all thanks to our team. In this blog series, we highlighted talented professionals whose dedication and passion are making a positive impact on your conveyor systems. These are the faces behind the brand who are helping to transform conveyor automation … and having fun doing it!
Meet Tami
For Executive Assistant and Sales Administrator Tami M., a 16-year career at Dorner all started with a simple job posting. Looking for a change of scenery at the time, Tami shifted a long-time career to an unknown world of conveyors.
An adjustment at first, Tami soon became accustomed and driven by the accountability and family values that drives the Dorner family.
"Everybody is vital to this company, whether you're out on the shop floor or working in the office, we all just work so well together. It is really a great feeling," she said.
In her role Tami works closely with the executive team – and that means multitasking.
Through changes in ownership and leadership, Tami said it's important to be flexible and roll with the times.
"Change happens and that's okay. We don't mind change," she said. "There are many changes that are positive and we all have to adjust to that. That's the way it is."
As Dorner continues to evolve, Tami remains a constant support system for the leadership team. Whether it is answering emails, setting up new accounts, scheduling meetings, or just keeping everyone on an even keel, there's a good chance Tami is the one behind the scenes making it happen.
The Dorner Difference
It's professionals like Tami that go above and beyond each and every day. Our global workforce takes pride in partnering with our customers to optimize efficiency and productivity in their applications. We accomplish this through the design, manufacture, support and distribution of high-quality conveyor systems that meet our demanding standards.
That's the Dorner Difference.