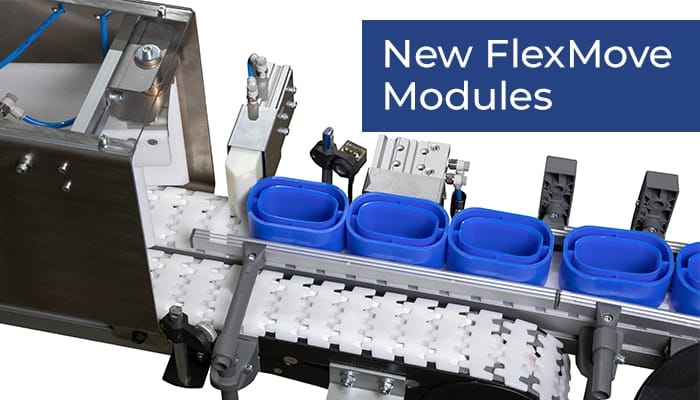 Dorner is now offering a Puck Stop Module and a Puck/Package Divert Module on its FlexMove® conveyor system that gives users the ability to stop pucks or packages for pacing requirements, as well as divert pucks and packages into a second lane.
Puck Stop Module
The pneumatically-operated Puck Stop Module is available in two models: Vertical Blade Stop, which is used in pairs as an alternating escapement for pacing round or rounded-edge rectangular pucks, and Horizontal Squeeze Stop, which is used in combination with the Vertical Blade Stop for pacing product without rounded edges.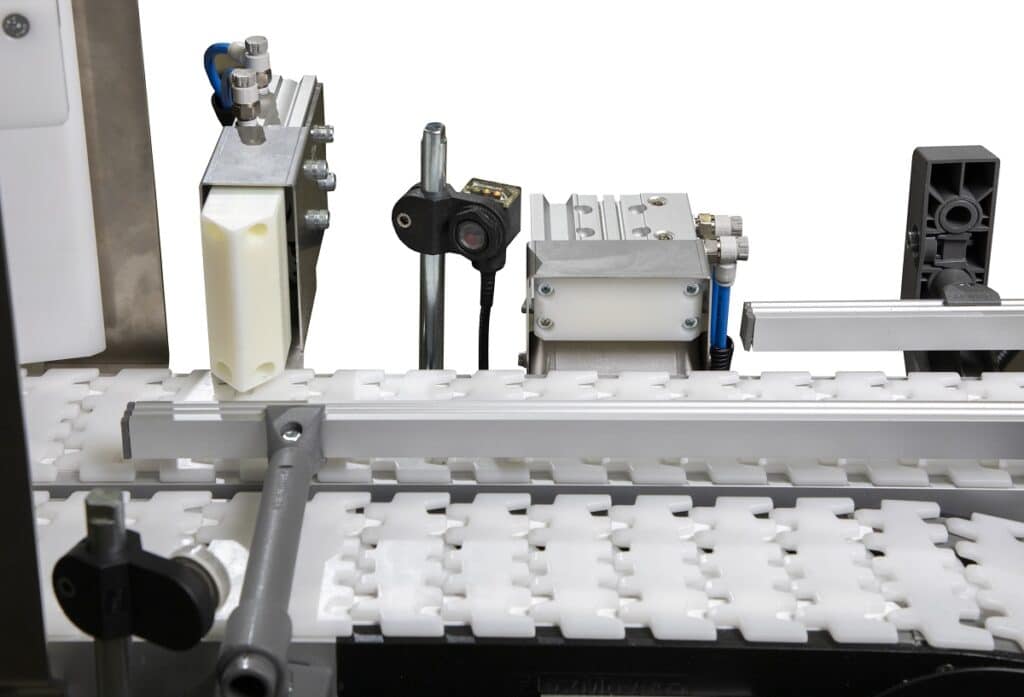 Performance specifications of the Puck Stop Module include:
Maximum single product weight: 2.3 kg (5 lbs.)
Maximum product accumulation weight: 13.6 kg (30 lbs.)
Maximum conveyor speed: 50 m/min (164 feet per minute)
Produces gap of about one product length
Puck/Package Divert Module
The pneumatically-operated Puck/Package Divert Module guides product from one lane into two lanes. The divert arms is encapsulated inside a tunnel guard, where the module diverts product into their specified lane. Product can run back-to-back or paced for individual product divert.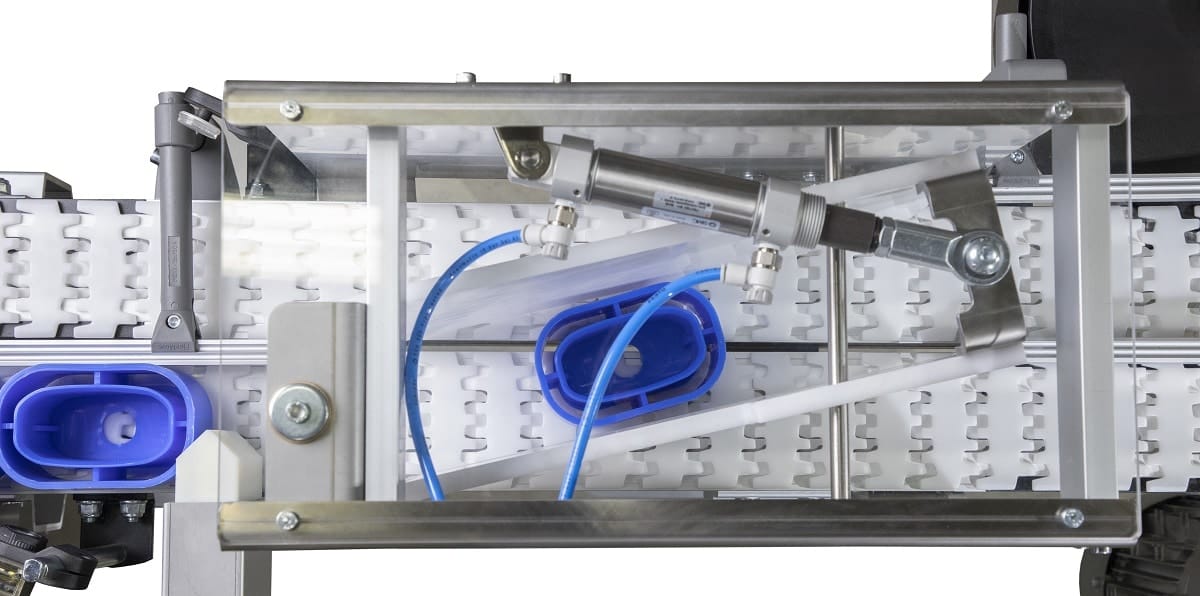 Performance specifications of the Puck/Package Divert Module include:
Product must be able to stand unsupported
Minimum single product weight: 0.2 kg (0.45 lbs.)
Maximum single product weight: 5 kg (11 lbs.)
Maximum product height: 150 mm (5.9 in.)
Maximum product width: chain width
Both modules are compatible with round or rectangular bottles, containers or pucks. Additional features, benefits and operating specifications of both the Puck Stop and Puck/Package Divert Modules include:
UHMW plastic on the two puck stop models and diverter arms for non-marking contact surface
Flow controls with push-in air line connection
Requires photo sensors, pneumatic solenoid valves, wiring and programming
Production rate depends on product size
Available on FlexMove conveyors:

FS (65 mm)
FM (85 mm)
FC (105 mm)
FL (150 mm)
FU (180 mm)
FV (260 mm)
The Puck Stop and Puck/Package Divert Modules are the latest additions to the FlexMove product line. Previous enhancements for added customer flexibility include a clamping module, wet/dry cleaning module, side-acting merge module, helical plain-bend option and a tight-turning radius option.
FlexMove Conveyors
The FlexMove flexible chain conveyor brings the best engineering and performance standards in flexible conveying automation. These aluminum-frame, flexible chain conveyors are ideal when floor space is limited as they are designed to make tight 360° turns in and around machinery and equipment. FlexMove conveyors are perfect for accumulation, packaging, part handling, product transfers, assembly and automation.