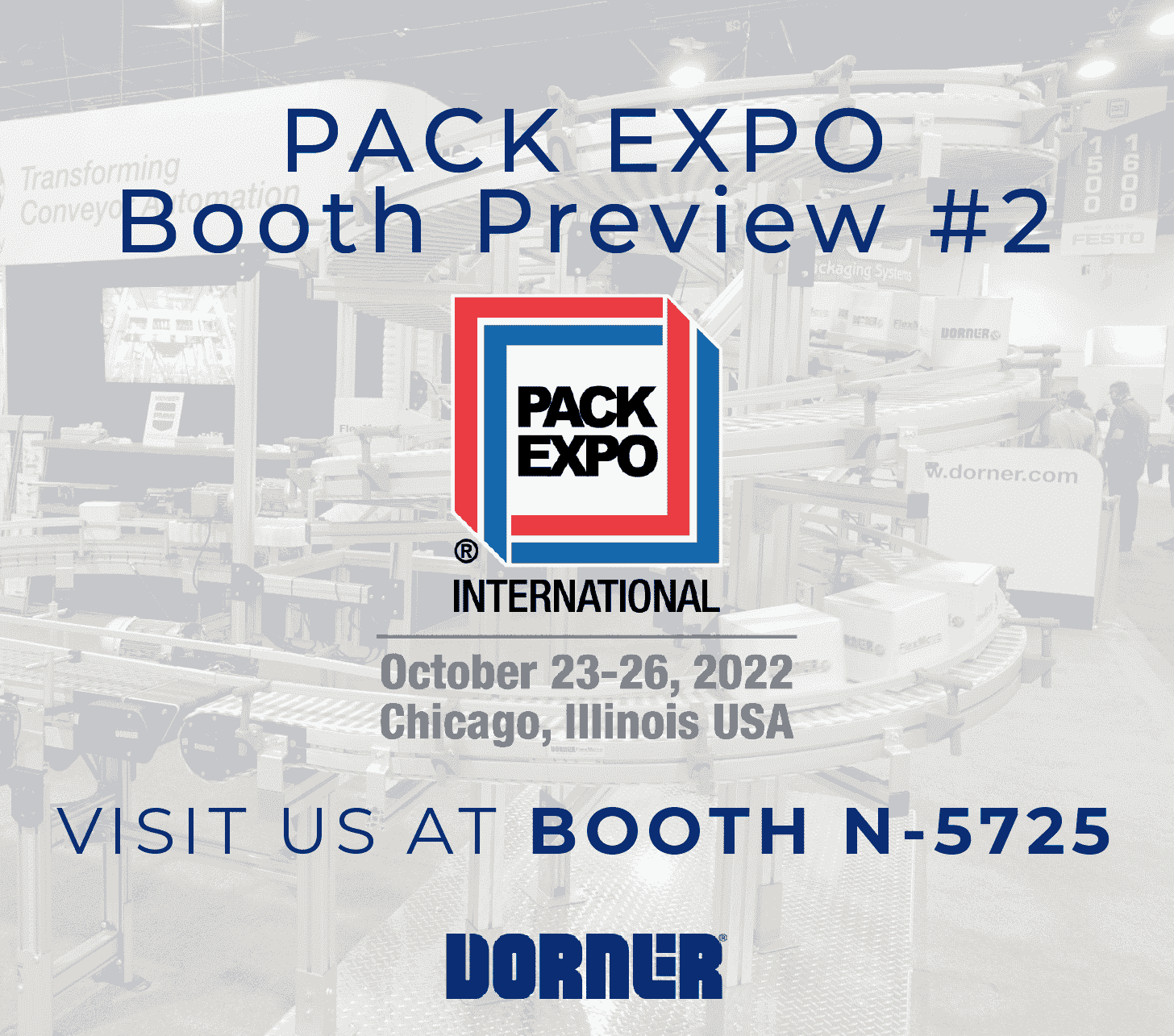 If you did not get a chance to visit Dorner's booth at IBIE 2022 in Las Vegas, here is your chance to see our sanitary conveyors in action! We will be showing our Sanitary system Loop at Pack Expo 2022 in October.
Sanitary Conveyor Demonstration
Dorner's Sanitary Loop demonstrates the uniquely flexible and customizable features our sanitary stainless-steel conveyors have to offer. With a combination of modular belting, vertical lift, and line egress technology, these systems can be configured to meet the needs of any application.
Our sanitary loop display combines three systems: an AquaGard modular belt, AquaPruf VBT, and AquaGard LPZ. The sanitary modular belt system utilizes the industry's most advanced flexible plastic chain belt with gaps no larger than 4mm while maintaining a high level of flexibility for curves and elevation changes.
The VBT and LPZ conveyor systems show off two more options for elevation changes within the production line. For vertical lift of bulk products, the VBT offers a unique bucket conveyor option with cleated sidewalls and a larger bucket capacity. The cleated sidewalls help to ensure that you have little to no product falling out of the bucket during lift and helps to increase the capacity by 15%.
For bulky, heavy, or more delicate products, the LPZ offers a gentler slope for inclines or declines and allows you to convey product to different elevation levels. The AquaGard LPZ includes stainless steel guiding and a cleated belt to ensure product does not slip along the belt on the sloped portion.
Visit Dorner's Booth at Pack Expo 2022
Click here to register for Pack Expo and be sure to visit Dorner at booth N-5725 to see our sanitary conveyor systems to learn more about how our conveyors can improve throughput for your company. Our team is ready to talk with you and help find a conveyor to meet your needs!