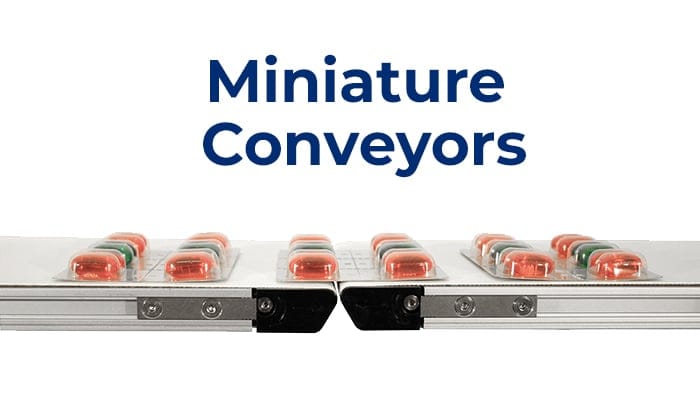 Miniature conveyors are conveyors built as small as they come. And despite their space-saving sizes, these conveyors aren't short on features. Dorner's mini conveyors are designed to move small parts and lightweight product safely and efficiently.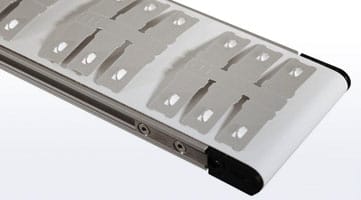 Our miniature conveyor belt systems are perfect for transporting pharmaceutical drugs, surgical supplies, respiratory masks, syringes, stents, eyesight glasses and small bottles, for example, making them especially valuable to companies operating in the life sciences, medical and pharmaceutical industries.
Let's explore key features of mini conveyors and then take a look at several types of miniature conveyors offered by Dorner.
Features of Miniature Conveyors
Dorner's mini conveyors are designed with different sizes, speeds and other features in mind. The following information serves as a snapshot of some common features yet reveals a range of specifications to help give customers a vision for how mini conveyors might work in their businesses.
Belt widths: 1.75 inches (44 millimeters) to 24 inches (610 millimeters).
Conveyor lengths: 10.63 inches (270 millimeters) to 98 feet (30,000 millimeters).
Load capacities: up to 150 pounds (68 kilograms).
Belt speeds: 10 feet per minute (3 meters per minute) to 400 feet per minute (122 meters per minute).
Mini Conveyors Offered by Dorner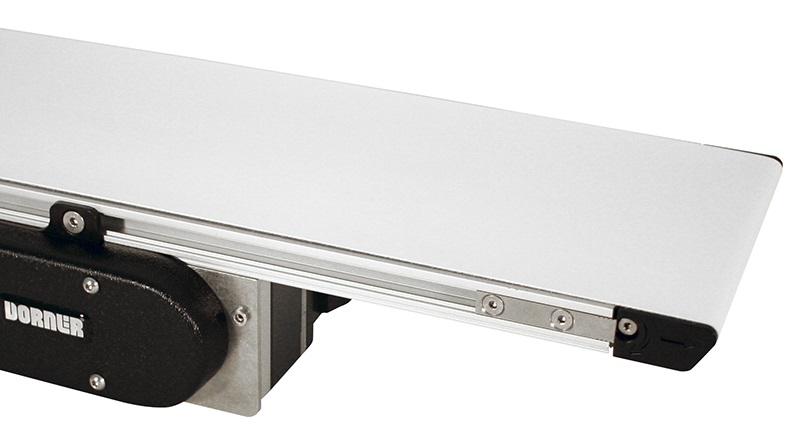 1100 Series Conveyors
Dorner's 1100 Series Conveyor has earned a reputation for being the industry's smallest-profile conveyor.
This mini belt conveyor is built for small and/or lightweight product movement and is favored for use in the life sciences, medical and pharmaceutical industries.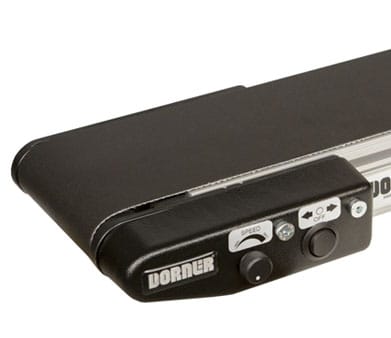 2200 Series Conveyors
With a rigid and robust single-piece frame, Dorner's 2200 Series Conveyors are suited for handling small to medium-size parts. These mini conveyors are generally used for:
Automated and manual assembly
Inclines and declines
Industrial applications
Packaging
Part accumulation, infeed and outfeed
Precision part movement
Small-part handling, positioning and transfers
FlexMove FK 45 mm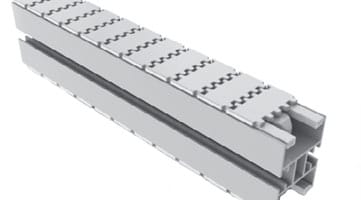 Dorner's FlexMove Conveyors include a miniature conveyor. Our FK 45 mm Aluminum Conveyor model features a compact and clean design and is built to move small items, from perfume bottles to pharmaceutical bottles, quickly.
This mini conveyor belt utilizes a plastic chain that allows for horizontal and vertical change of direction. In addition to the standard types, several special purpose chains are available. The FK 45 mm Aluminum Conveyor is used in the life sciences, medical, packaging and processing industries.