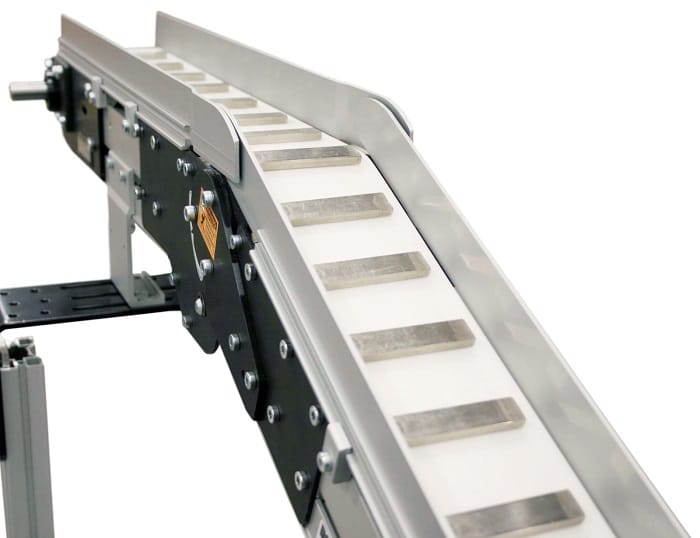 Every business needing a magnetic conveyor in its facility has a specific product to run. Therefore, no two solutions will work the same for different companies.
A company moving nails, screws, bolts and other small objects will not need the same magnetization as a company moving larger, heavier magnetic parts. Every conveyor features unique magnetic chips configured to handle the required product.
Magnetic belt conveyors are created by placing permanent ceramic magnets in the bed of a standard conveyor. These magnets can hold ferrous, or iron-containing, parts and run as any industrial conveyor should run. The magnets are placed with precision, providing the perfect magnetic holding power for these parts.
The conveyor and magnets are designed so they are strong enough to hold the parts for horizontal, inclines and vertical runs.
This design makes them suited to tackle elevation changes and part holding. Every magnetic field is designed per application by strength and size, providing a truly customized conveyor system.
Our 2200 and 3200 Series conveyors feature aluminum extruded frames with T-slot construction. These conveyors also feature sealed ball bearings, rack and pinion belt tensioning, and V-guided and non-V-guided belt options.
Dorner magnetic conveyors include options and accessories such as standard support stands a variety of guiding options, series standard mounting packages, gearmotors and controllers, and drip pans, and more belts.
Every magnetic belt conveyor that Dorner produces is purposely created to improve the efficiency, production and growth of our customers' businesses. Dorner manufactures products of the highest quality by industry experts who've been trained to configure, design and assemble custom conveyors according to exact specifications.
Learn more about Dorner's Magnetic Conveyors