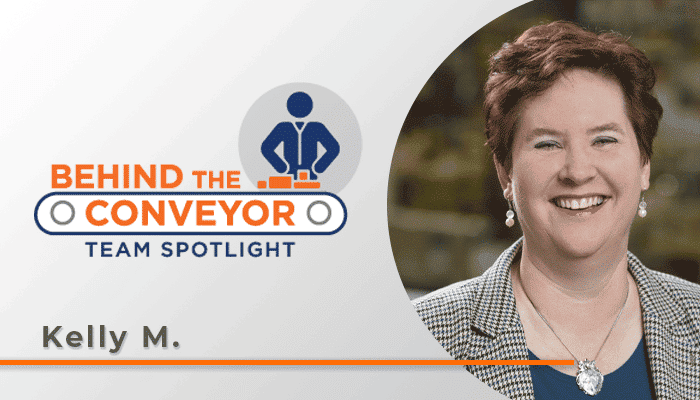 Behind the Conveyor – Team Spotlight
Dorner has become a global brand in conveyor automation – and that's all thanks to our team. In this blog series, we highlighted talented professionals whose dedication and passion are making a positive impact on your conveyor systems. These are the faces behind the brand who are helping to transform conveyor automation … and having fun doing it!
Meet Kelly M.
Helping people is just part of Kelly's nature. Working with people and making sure she can do everything to help them is what makes her happy, personally and professionally. In her current role as a client services/project coordinator, she solves customers' problems, while understanding and learning more about their interaction with Dorner.
"It's all about serving the customer better and understanding their whole experience with Dorner," she said. "When you talk to customers, there's a relationship built and that's more than someone answering the phone, answering a question then moving onto the next query."
Kelly has been in some aspect of customer service most of her professional life. Engaging with people is what drives her.
"I like people. I've been in customer service for over three decades. Working with people and developing relationships – I like that," she said.
The only time Kelly wasn't in customer service was when she taught English to students in China for two years. Getting to know them, watching them grow and seeing their lives change she found so gratifying. She feels that same sentiment when working with Dorner's customers.
"In manufacturing, you can find ways to assist customers and I'm absolutely overjoyed working with clients and being part of the process to improve customer communication! I am able to interface with so many other departments, so I get to know the entire company in a much better way. That's very satisfying to me," she said.
It's professionals like Kelly that go above and beyond each and every day. Our global workforce takes pride in partnering with our customers to optimize efficiency and productivity in their applications. We accomplish this through the design, manufacture, support and distribution of high-quality conveyor systems that meet our demanding standards.
That's the Dorner Difference.