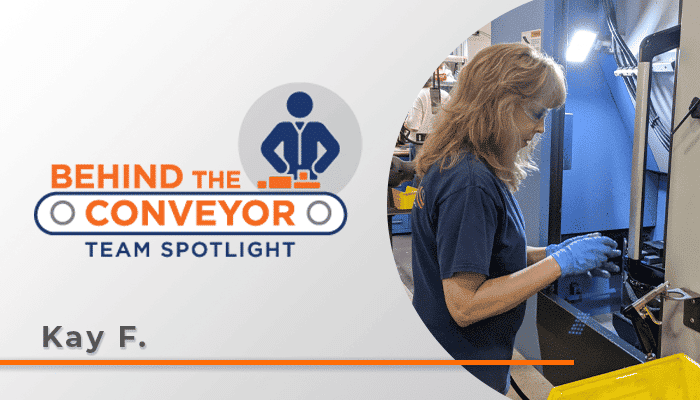 Behind the Conveyor – Team Spotlight
Dorner has become a global brand in conveyor automation – and that's all thanks to our team. In this blog series, we highlighted talented professionals whose dedication and passion are making a positive impact on your conveyor systems. These are the faces behind the brand who are helping to transform conveyor automation … and having fun doing it!
Meet Kay F.
Kay may walk softly and keep a low profile, but her role as a vertical machinist production tech is very important to Dorner's overall success.
"I run a vertical machine and it's pretty much the fastest machine in my area," Kay said.
Part of the Dorner team for the past three years, Kay is responsible for manufacturing most conveyor assemblies, include headplates, bedplates, stands and other components.
She was with her previous company for 25 years, but found it time to make a change. She knew a colleague who was working at Dorner, and he recruited her to apply her skills here.
"It was a major good move," she said. "Here at Dorner, I like the variety of making different parts. It's good work."
Kay said the culture at Dorner is one where everyone looks out for each other.
"I think it's very friendly. People are always willing to help each other when you need help; they're there for you," she said.
It's professionals like Kay that go above and beyond each and every day. Our global workforce takes pride in partnering with our customers to optimize efficiency and productivity in their applications. We accomplish this through the design, manufacture, support and distribution of high-quality conveyor systems that meet our demanding standards.
That's the Dorner Difference.