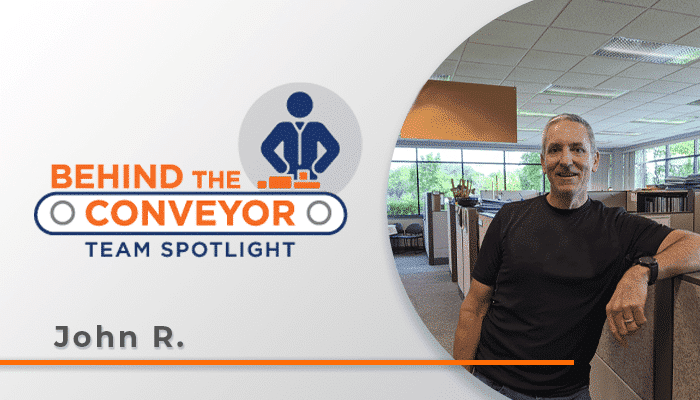 Behind the Conveyor – Team Spotlight
Dorner has become a global brand in conveyor automation – and that's all thanks to our team. In this blog series, we highlighted talented professionals whose dedication and passion are making a positive impact on your conveyor systems. These are the faces behind the brand who are helping to transform conveyor automation … and having fun doing it!
Meet John R.
"If you don't enjoy what you're doing, you don't stay for 32 years." That's what John R., a senior design engineer, says about his time with Dorner. Not only does he find his work challenging and fulfilling, but he thinks Dorner's culture is one of the best he's ever seen.
"It's just the environment, the people. Dorner's always been a good place to work for in terms of being treated with respect, building good relationships with people and just having fun at work," he said.
John has been with Dorner since the three Dorner brothers were running the business, and he feels that the culture instituted by them has not changed since then. He recalls the brothers walking around the office daily, personally handing out paychecks to every single person by their first name.
"They knew tidbits about you and your family, so it felt really close," John said. "Now there are 250-270 employees here, and we still have that same feel. Terry Schadeberg (Dorner's President and CEO) is right upstairs. I can walk up there and knock on his door and talk to Terry." The engineering team also has a good rapport with the manufacturing team. They work right alongside their assemblers, getting their hands dirty, problem-solving issues. "We're friends and work together to get stuff done, he said."
For John, collaboration is a big part of Dorner's success. "All of us know to get the product out the door, while maintaining Dorner's high quality. And we also need to keep product moving fast, and that requires all of us working together."
It's professionals like John R. that go above and beyond each and every day. Our global workforce takes pride in partnering with our customers to optimize efficiency and productivity in their applications. We accomplish this through the design, manufacture, support and distribution of high-quality conveyor systems that meet our demanding standards. That's the Dorner Difference.