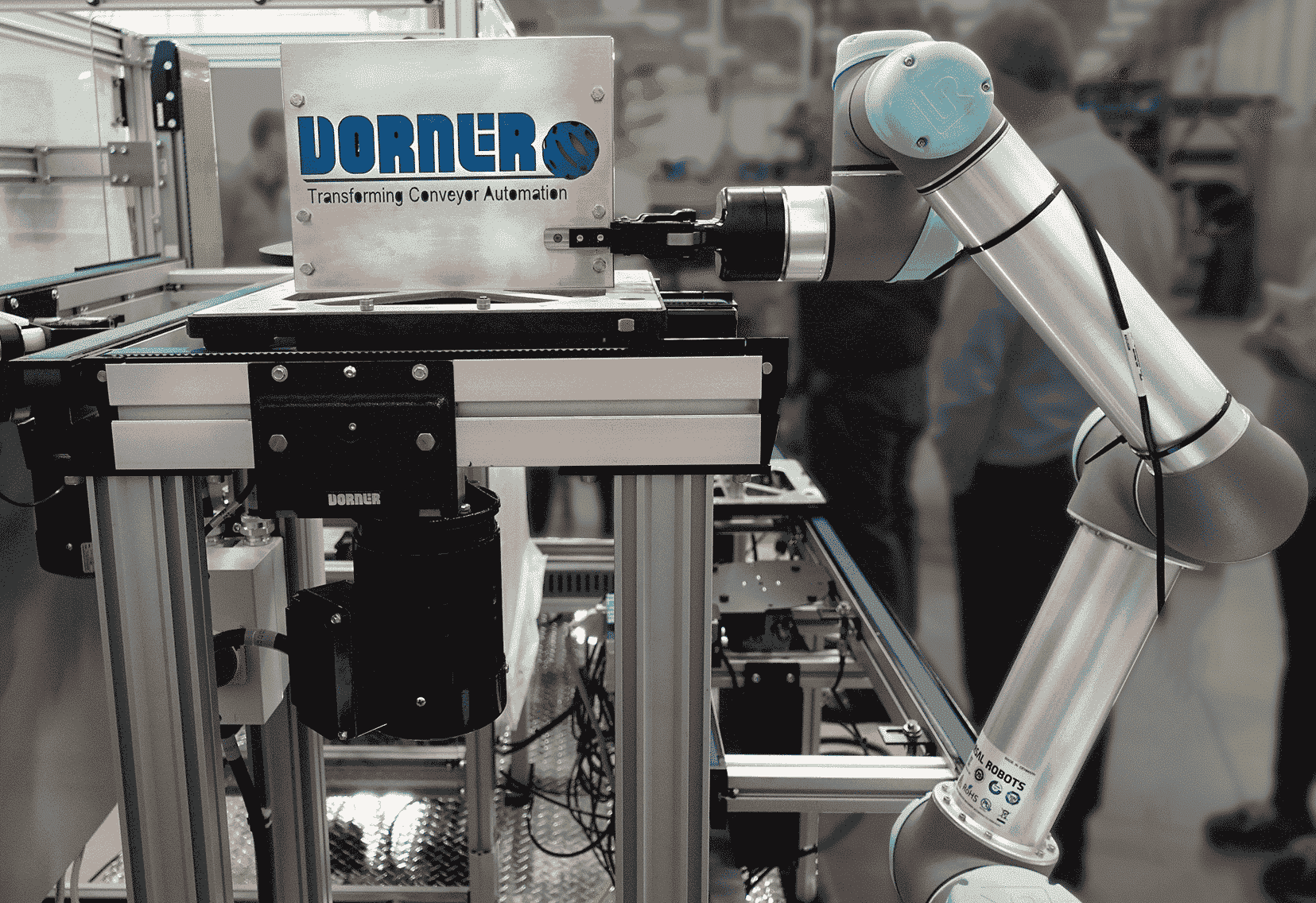 The integration between robotics and conveyors in recent years has brought a much higher level of automation to a variety of packaging applications. The two components work hand-in-hand to deliver a more streamlined, efficient operation with more accuracy and a strong return-on-investment.
As we look beyond 2020, we feel this collaborative effort is only going to get stronger within packaging as robotics become easier to program and more cost-effective to operate. Take a look in any modern-day processing or packaging facility, and you'll see automation is the prime driver behind the way products are being produced. There's no better time to embrace the integration of robotics and conveyors – here's why: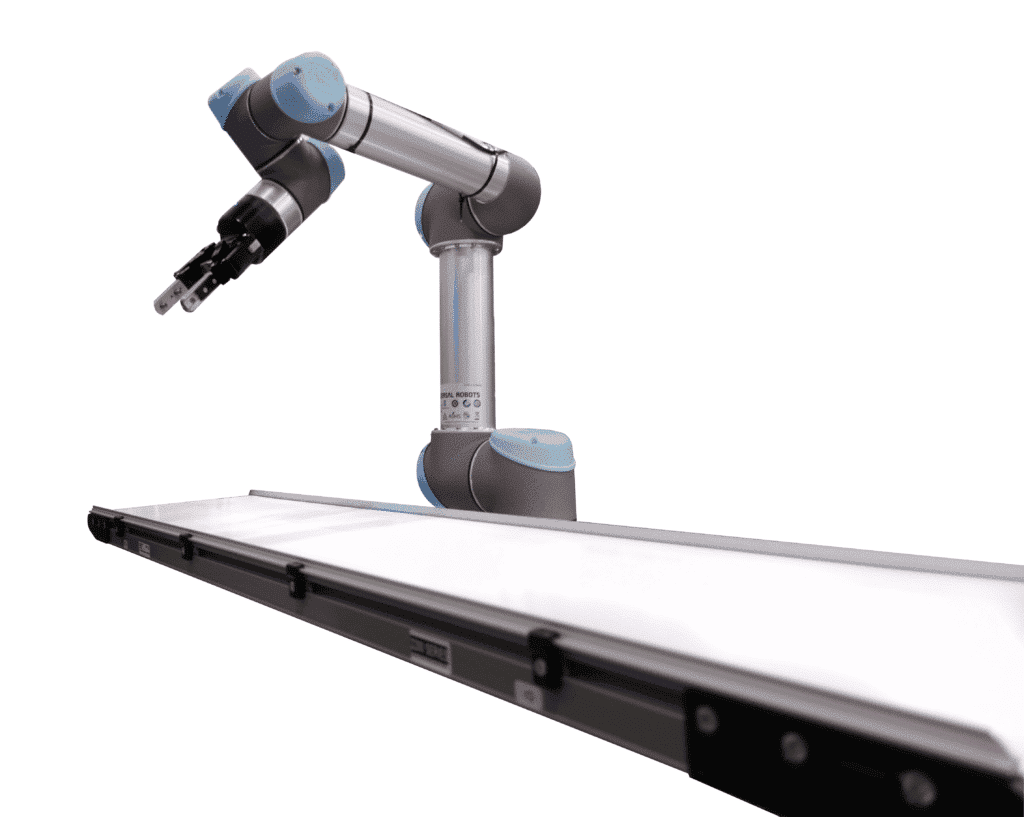 More Applications
As robotic technology has grown, so too has its popularity within the packaging industry. New to the scene are smaller, agile collaborative robots, which are designed to safely share a workspace with people. This is opening up new applications that previously didn't involve any robotic interaction.
"Where we're seeing a greater increase in collaborative robots is in smaller operations, meaning less than 10,000 employees where the automation work is being done in-house. That's where we're seeing the most growth," said Dan Toynton, Product Specialist at Braas Company, an Eden Park, Minnesota-based distributor/reseller of products and related services for industrial automation and control. Braas works closely with several automation control manufacturers, such as Universal Robots (UR), in designing custom solutions for the packaging industry.
He said good examples of robotics being deployed in smaller operations are in end-of-line applications where palletizing is required for lighter parts. Robots are able to remove employees from the monotonous, repetitive action of loading and unloading pallets all day long, which in the long run saves an organization money in time and labor.
"I think there's a field acceptance we're seeing with collaborative robots that they're proving themselves to be reliable and more universally accepted," Toynton said. "They're safer to work around, and the UR robot is quite easy to setup and work with. They're gaining popularity over time because of those reasons."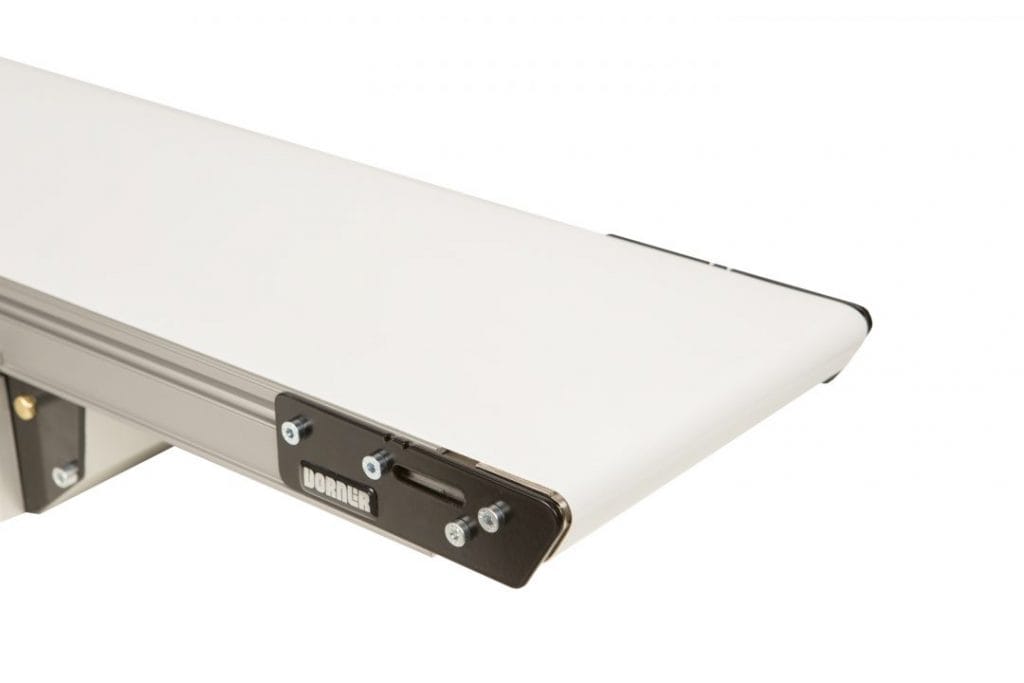 Some fear that as robots gain in popularity, they'll end up taking jobs away from employees. When you dive deeper into the issue, quite often the opposite occurs. We're seeing companies repurpose its people into different areas where they're more needed.
That's because finding strong employees who possess the right skills can be challenging, and when you have them, the last thing companies want to do is let them walk out the door. Collaborative robotic systems are bringing greatly increased automation to packaging, while relocating good workers to other areas where their skills can be put to better use.
"We have found that the customers we are selling robots to are gaining efficiencies and are more able to compete in the marketplace. When this happens, they tend to grow and employ more people," Toynton said. "Different jobs evolve out of it, no doubt; they're not the same repetitive jobs, but rather they're safer and more interesting. Overall, it's a net gain of jobs, at least in companies that are gaining efficiencies."
Easy Programming
As with any newer technology, the easier it is to use and navigate, the more accepted it will be – and that's one of the hallmarks of collaborative robotics.
Many robotic manufacturers have created their own software to make installation and programming fast and easy. For example, Universal Robots has URCaps, a platform for its accessories and peripherals. The company describes them as caps are to robots, what apps are to smartphones: useful accessories, hardware and software extending the capabilities of UR robots handling many different tasks.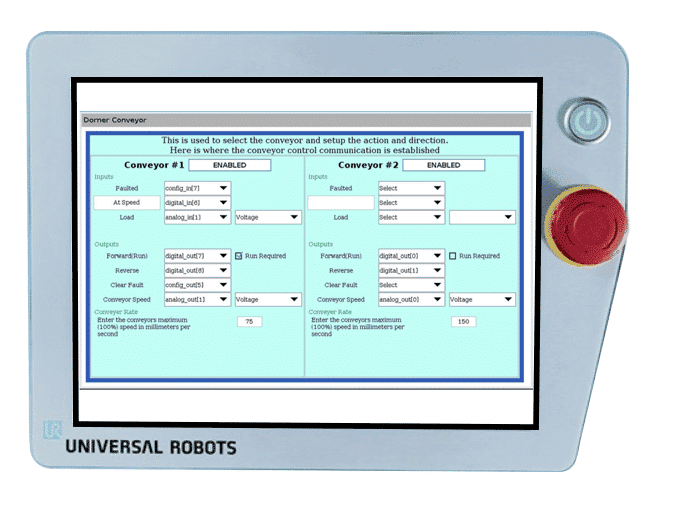 To make the integration process even easier, UR allows material handling suppliers, such as Dorner, to piggyback off their Caps platform. Dorner's 2200 Series conveyor and related accessories, can be controlled with the URCap plug-in to aide in setup, configuration and control.
Once the program is installed, the conveyors can be added to the control program, and the user is able to set the inputs and outputs needed for starting, stopping, speed reference and monitor status information.
"It's like a smooth handshake between the variable frequency drive that runs the conveyor and the robot controller," Toynton said of Dorner URCap. "You can run one or two conveyors off of the controller at one time; program the start, stop, max speed and monitor overall line performance. It's all built into the URCap program.
"The real savings people see is in the simplicity and ease of setup using the single controller."
While many people hold speed as a benchmark to obtain in their packaging line, collaborative robots aren't necessarily designed for high-speed applications.
"The robot is limited in how fast it can run because of inertia, and the fact that it's a collaborative robot, so it's limited in how fast it can work," Toynton said. "It's not a question of the conveyor, but rather the applications have to be the right fit for collaborative robots, such as those having a two to three second cycle time. Applications that are super high speed are not suitable for these types of robots."
Conveyor Technology
Just as technology in robotics continues to evolve, conveyors are keeping pace as well. Robotic applications often require product to be in an exact location, in the exact position, and at the exact time on the conveyor. But to do that successfully requires a conveyor system that's efficient, reliable and engineered to work in conjunction with robotics. Not every conveyor can do that.
Servo-driven precision-move conveyors deliver accurate alignment of time and distance that provide indexing repeatability of +/- .040", all at a rate of 100 indexes per minute.
Additionally, pallet system conveyors have become a popular choice for many automation-focused applications that require exact movements and positioning of parts, as they can be setup or programmed to start and stop at specific intervals to sync up with robotic interaction or other processes.
These types of conveyors dominate in automotive component manufacturing, as well as other industries including packaging, medical devices, electrical and electronics, and product testing/inspection that call for automated and manual assembly or handling of products.
Pallet system conveyors are available in multiple styles such as dual belt configurations powered by common drives, and flexible plastic chain belt designs. These conveyors come with lifting modules and can be used to interface with robots, change product orientation, or rotate product 90° or 180°.
Robotic and conveyor manufacturers are making it easier than ever to integrate their systems. This is bringing a higher level of automation and efficiency to much of the packaging industry. If you're applications makes sense for robotics, it may be the path toward advancing your company past the competition.
This article originally appeared in part in Packaging Technology Today.