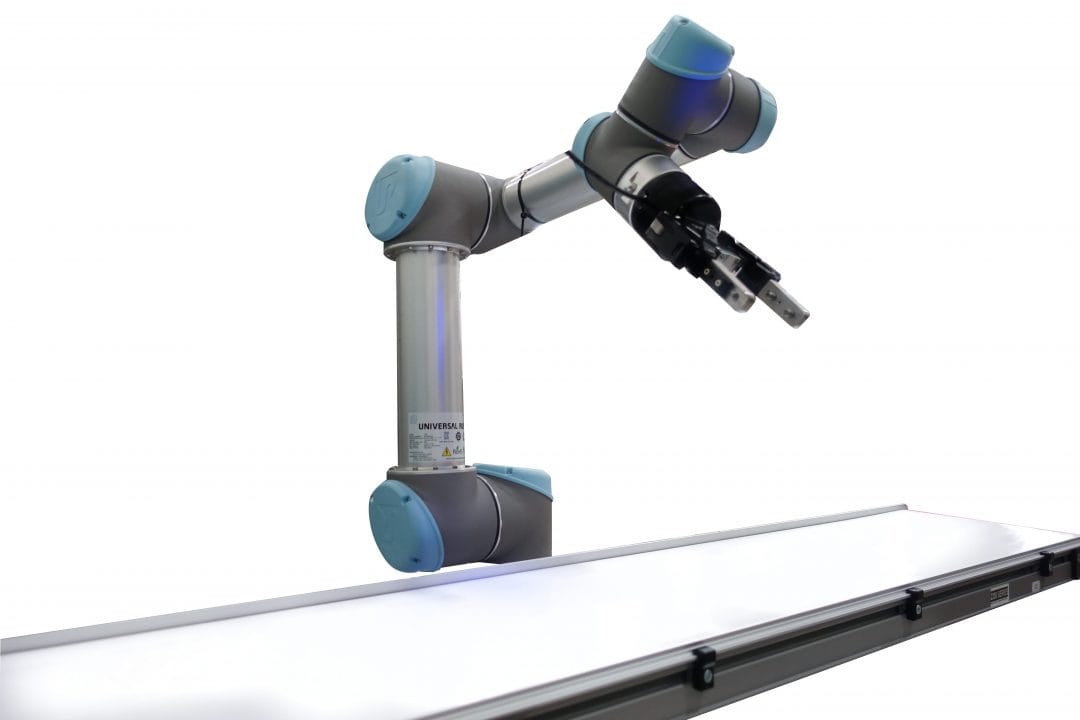 The patent for the first industrial robot, Unimate, was granted in 1961. The design was conceived from a design for a mechanical arm patented in 1954. The robotics industry has undeniably made significant advancements from where it began with Unimate. A byproduct of these advancements has been the introduction of collaborative robots into manufacturing. Collaborative robots or "cobots" are designed to share a workspace with humans, making automation easier than ever before for businesses of all sizes. It is a cost-effective way to enhance flexibility and reduce risk.
Cobots can be used as a tool for operators to maintain the company's standards without sacrificing their safety or job satisfaction. A means to assist rather than replace. As there continues to be a labor shortage within manufacturing, companies are turning to cobots for applications such as machine tending, packaging, assembly, and processing applications. In 2018 alone, the cobot market grew more than 60% nearing $500M in global sales. According to Robo Global, it is the fastest-growing segment of industrial robotics with global annual revenues forecasted to reach $7.6 billion by 2027.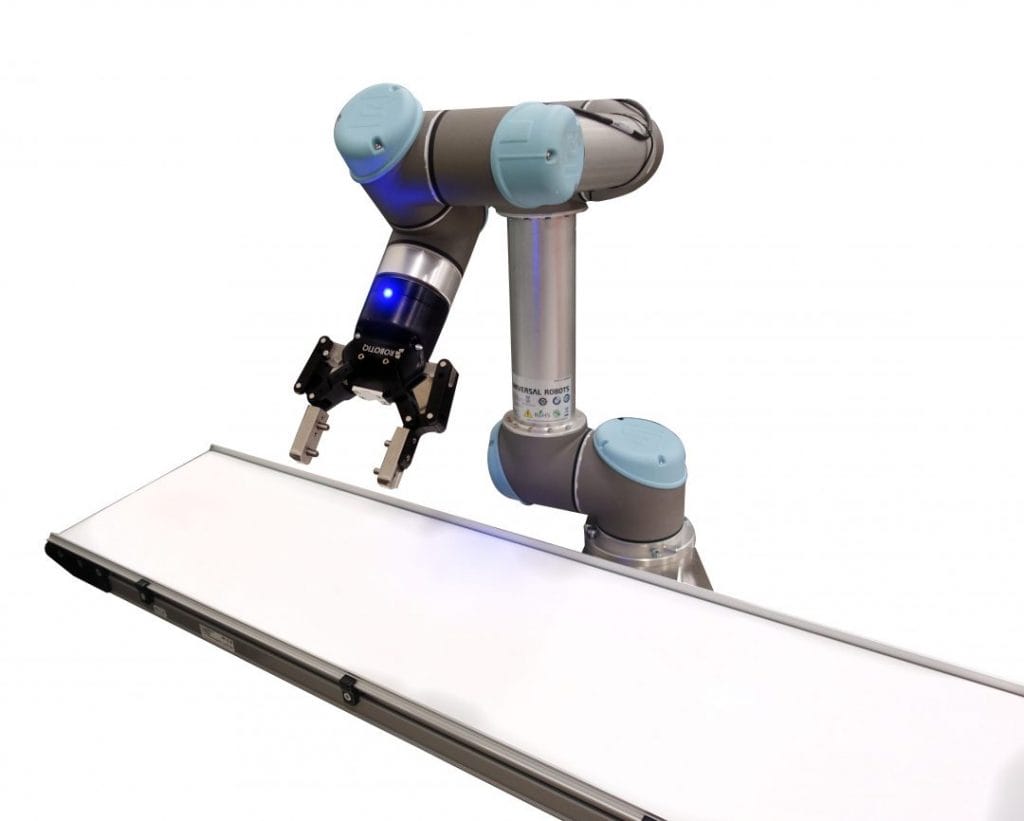 Integrating cobots into a production line has now become a reality for many companies, but they are facing the difficulties of having to adjust a whole system. How cobots assist workers is similar to how surrounding equipment assists cobots. All variables rely on each other to create a smooth production line that consists of seamlessly integrated machinery, which results in a consistent, efficient, and quality system. A seamless line with high uptime is a need for many cobot investors, with quick and painless implementation as their focus.
Dorner's 2200 Series conveyors are a certified UR+ Solution that simplifies robot and conveyor integration for an array of automated applications. The 2200 Series low profile, high-performance fabric, and modular belt conveyors feature a high-speed nose bar transfer option, durable single-piece frame design, universal T-slots, and a wide range of belting and guiding options. 2200 Series conveyors are designed to be the infeed and discharge to a Universal Robot. Ideal for material handling, packaging, machine tending, welding, material addition, cutting, and quality applications.
Integration is simple with the ability to control up to two conveyors with the URCap plugin. Another feature is the ability to set a maximum speed for the conveyor during system setup. Additionally, Dorner's UR+ Solution allows the user to select the speed of the conveyor by programming an analog voltage output that corresponds to a percentage of maximum speed when running the program. Dorner's UR+ Solution also works with the conveyor to select a direction using the Digital Input option for conveyors that are reversible.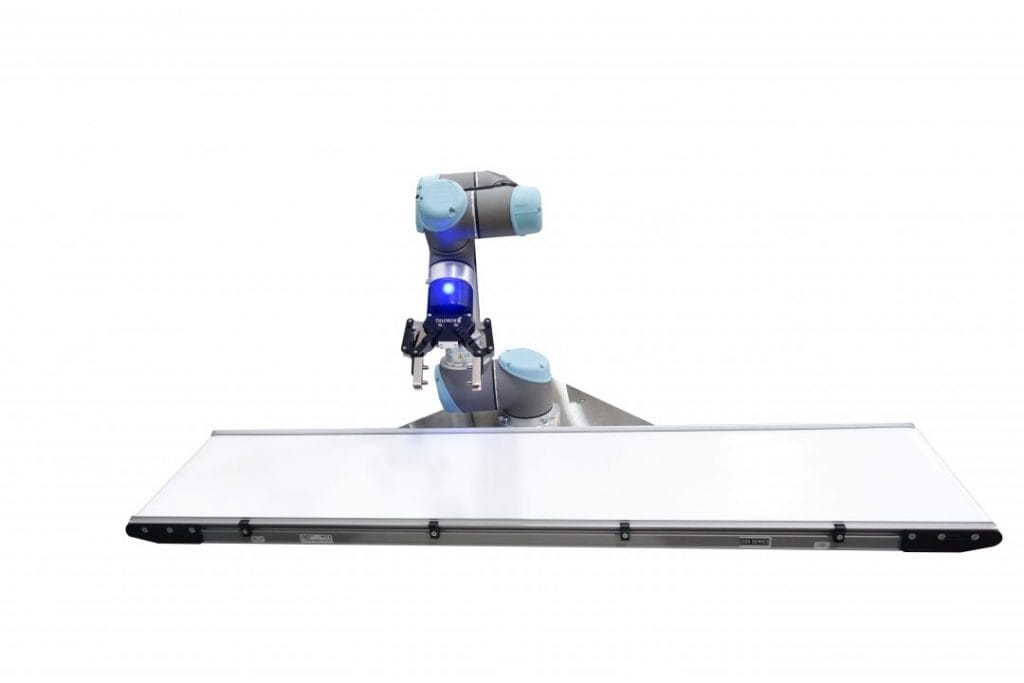 Users also have the ability to start, stop, and control the speed and direction of the conveyor, from the robot controller. Multiple speeds can be utilized during a robot cycle ensuring that the conveyor is in motion when it is most beneficial. For example, when a conveyor needs to advance parts for pickup by the robot in a machine tending application. Additionally, the Dorner UR+ Solution adds an extra level of security with the conveyor speed control to limit those with access to the Robot Controller settings.
Dorner URCap Plug-In is compatible with Universal Robots UR3, UR5, UR10 and e-Series. Simply load the URCap onto a memory stick, connect to USB port on the Universal Controller, and follow the easy installation process.
Utilizing Dorner's DTools 3D online conveyor configurator, users can configure a Dorner UR+ 2200 conveyor in minutes, complete with CAD drawings. The logic-based conveyor configurator provides intuitive guides for conveyor build. Part numbers are generated with detailed part descriptions, and CAD requests are emailed within minutes. Once configured, Dorner's 2200 Series can be quoted and ordered via a local sales channel and shipped direct in as little as 3 business days.
To learn more about simplified automation Download the free UR+Cap plug-in and manual. Discover more about Dorner and UR Solutions here.