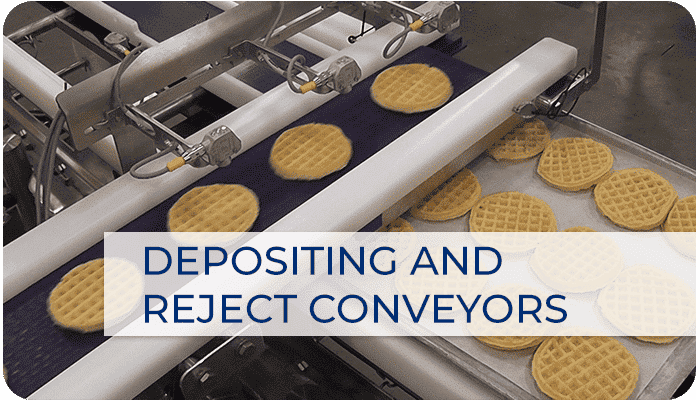 Rejecting Conveyors
Why is rejecting necessary? Rejecting is a necessary step in any production line to help increase the quality of a business' output. Not all products are fit to be sold in a marketplace, with some estimates putting 2 percent of output as rejected parts.
Products may be rejected by sight for reasons such as an irregularity or deformity. They may be rejected because of improper weight or missing caps, flaps or labels as well as because of incorrect or unreadable barcodes. Products may also fail a safety test such as by metal detection or X-ray.
Popular Conveyor Reject Mechanisms
The most popular conveyor reject mechanisms are air blast, pneumatic pusher, overhead sweep, pneumatic retract, pivot down/up and linear actuating.
Custom Rejecting Conveyor
Custom reject conveyors make it possible to maximize application performance. Each product's individual characteristics and weights impact the type of retract, the distance and move required to reject, and the speed of the move.
Product Routing
Product routing is the key to overall throughput of any manufacturing and assembly process. The faster and more consistent product is delivered through the process, the higher the quality and throughput.
Product routing also provides the flexibility to route product through different processes such as individual pack to a bulk fill line.
Retractable Tail
A retractable tail is a common type of conveyor reject mechanism. It requires a signal that activates when the tail retracts.
Safely and Efficiently Remove Product With Dorner's Reject Systems
Dorner offers a variety of ways to reject product. Reject conveyors can be low-tech solutions that just stop the line until an employee can remove the offending product or be high-tech solutions that are as efficient as retracting conveyors.
In this latter case, metal detectors, for example, can pick up contaminants in product, and a retract reject conveyor's tail can automatically retract, dropping the questionable product into a reject bin, sometimes referred to as a reject conveyor accumulator.
Learn more about Dorner's reject conveyors
Depositing Conveyor Systems
Product sometimes needs to be placed onto another conveyor or a tray in precise rows or columns. A retract conveyor serving as a depositing conveyor can be equipped with sensors to ensure the product is placed exactly where it needs to be, whether in a box or on another conveyor.
Depositing is critical in product routing, increasing throughput and improving repeatable accuracy. By precisely locating product on a tray, conveyor or pallet, other processes can be sped up. The movement and time the next process requires is decreased because product is where it needs to be.
Types of Depositing Conveyors
Dorner's high-speed retracting tail conveyors may be used for applications such as depositing, rejecting, stacking and product routing. Sensors trigger when the retracting tails should retract.
Dorner can manufacture custom depositing systems based on our customers' product and applications as part of our custom conveyor systems service.
In one example, the Dorner team constructed a high-speed retractable conveyor for a business that needed to stack sheets of thin extruded food product. Once product reaches the end of the conveyor, a sensor triggers the tail to retract 3 feet in only 0.6 seconds. This retraction enables product to fall on a cart under the retracting tail.
In addition to sensors, push-buttons and manual retraction may be utilized, depending on our customers' needs. Retracts can have multiple drop zones and can occur infrequently, as needed or reoccur every few seconds with precision.
Learn more about Dorner's depositing conveyors