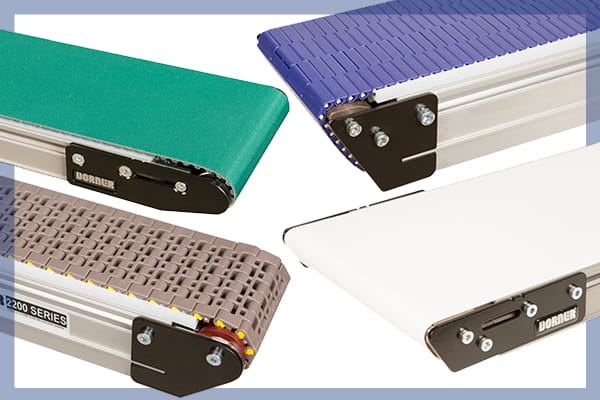 Have you been thinking about purchasing a conveyor, but don't know how to decide which type of belt is right for your application? While you can always contact us to discuss your options with our application specialists, here are some of the conveyor belt basics you need to get started.
For a more in depth explanation of the information below, visit our Belt Page.
Conveyor Belts
Conveyor belts are on the front lines of your conveyor system. They come in scores of varieties, from lightweight to heavy duty, and in a range of surface materials and coverings. With such a vast selection, it's important to find the right belt—and overall conveying system—for your business needs and industry requirements.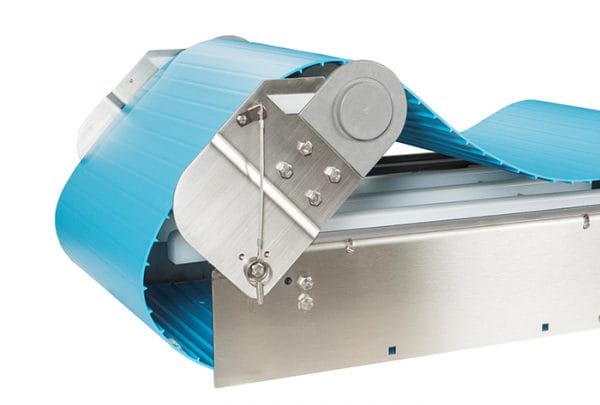 Conveyor Belt Types
Fabric Conveyor Belts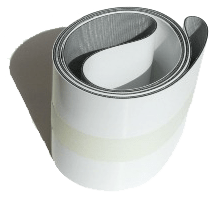 The flexible nature of a fabric conveyor belt allows for small pulley diameters, simplifying integration and product handling. Fabric belts can be used in a range of applications, from lightweight to heavy duty processing, in countless industries such as material handling, automation and FDA food processing applications.
Modular Conveyor Belts
Modular plastic conveyor belts are long-lasting, simple to clean and sanitize as well as easy to maintain and repair. Additionally, the open surface area can be an ideal solution for cooling and draining applications. Our Modular Belt Conveyors come in a variety of types, including flat top and flush grid. You'll find modular belts in a variety of industries, including bakery, food, industrial and more.
Flexible Chains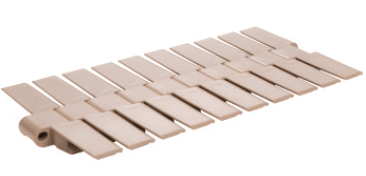 Flexible chains, sometimes referred to as table top chain, are ideal for complex layouts and wide ranges of environments. These durable belts are commonly used in bottling, secondary packaging, automation, general manufacturing and more. Dorner offers flexible chains on our FlexMove line and our AquaGard 7100 Series Conveyors.
How to Determine Which Belt I Need
When choosing your Dorner conveying solutions, the number of belting options may seem overwhelming, but it's just about finding the best fit for your product and situation. In addition to your intended general application use, you'll need to consider some other specs when determining which belt you need such as:
Temperature: Are you looking for a cold-use belt or one that can withstand high temperatures? Silicone holds up in extreme environments, making it an ideal material for cooking and baking industries. Polyethylene, however, is well-suited for lower temperatures.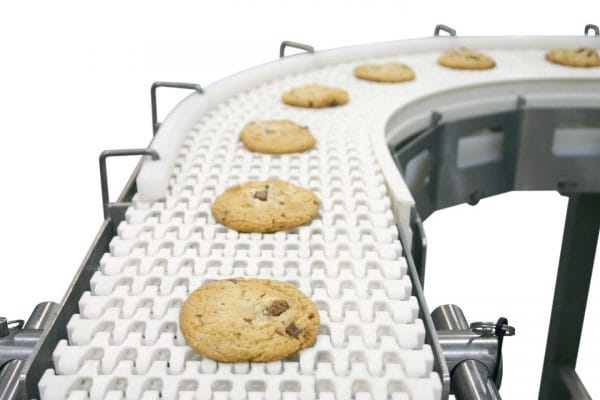 Abrasion resistance: This is an important quality when dealing with items that can cause wear and tear on your belts. For example, the nature of the metalworking industry and other industries that might encounter sharp edges call for a durable belt that can withstand cuts, scrapes and punctures. Polyurethane and nitrile-butadiene rubber are highly rated for abrasion resistance.
Other considerations:
Surface layer material
Friction level
Static conductive or anti-static
Chemical resistant
Abrasion- and cut-resistant
FDA approval
V-guided
Color preference
The last bullet point, color preference, might seem insignificant, but it's not just for aesthetics.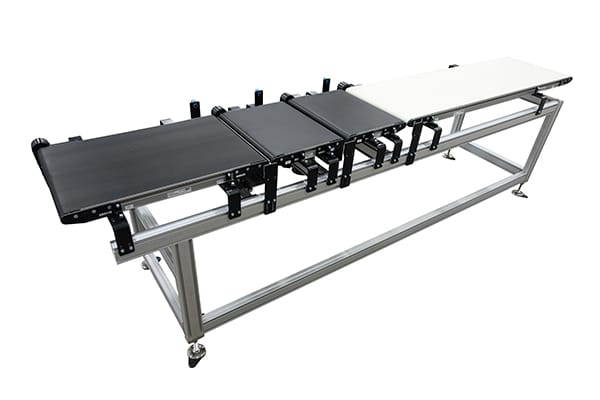 The shade of a conveyor can come into play for many reasons. For one, a black conveyor surface is handy in picking situations where distinguishing colors from one another is important. A dark surface can also conceal runoff from inkjet printing. More importantly, color can correspond with the material type or use: Blue often relates to hygiene and safety and is often used in food-handling processes.
You can see a list of Dorner's Standard and Specialty Belts and their properties HERE.
What's the Dorner Difference?
A leader in conveyance automation solutions, Dorner offers standard lines and highly customized systems. We're also one of the few companies of our kind with an in-house belting cell operation. This means we're able to partner with leading suppliers to offer custom conveyor belts and conveying systems that perform and last.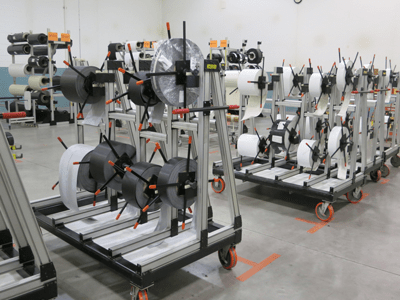 Dorner conveyor belts stand alone compared with our competition for a variety of reasons. Our in-house belting cell is peerless, carefully cutting, v-guiding, splicing, testing and inspecting all customer conveyor belts. We provide the highest-quality splicing, cleat welding and V-guiding techniques.
Our unique V-guiding enables supreme tracking and accurate product movement. Unlike other companies, we apply the V-guiding before the belt is manufactured so that the V-guide strip maintains its integrity for a seamless guide on the belt.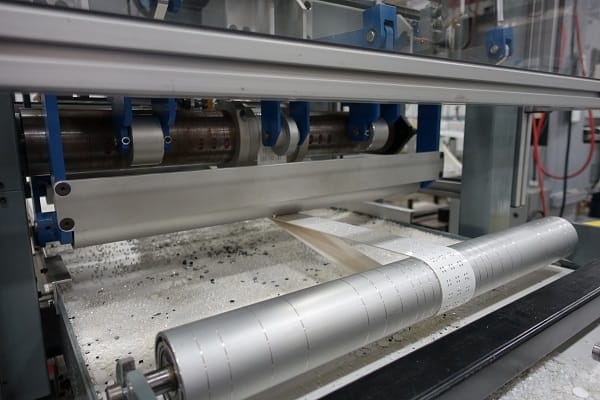 All vacuum conveyor belts are made at Dorner's facilities to ensure peak part-holding ability and perforation pattern quality. Our team oversees quality assurance, translating into more-reliable vacuum conveyors and systems for our customers.
Beyond Dorner conveyor belts' unrivaled quality, it's important to highlight that our lead times are among the fastest in the industry. This can make all the difference in keeping a production line running in your business.
How to Order the Belt I Need
The Dorner team is happy to help you place your replacement belt order as well as provide information about our Parts Kit program so you have what you need in-house before you need it.
If you're looking to replace a Dorner fabric or modular belt, your first step is to locate its serial number and model number. You will need these two pieces of information to make your request. Then you can complete and submit this form, and someone from our parts team will be in touch with you.
If you need a non-Dorner replacement fabric or other belt, our aftermarket department might be able to help. Contact us by email or call us at 800–397–8664 to speak with a customer service representative.