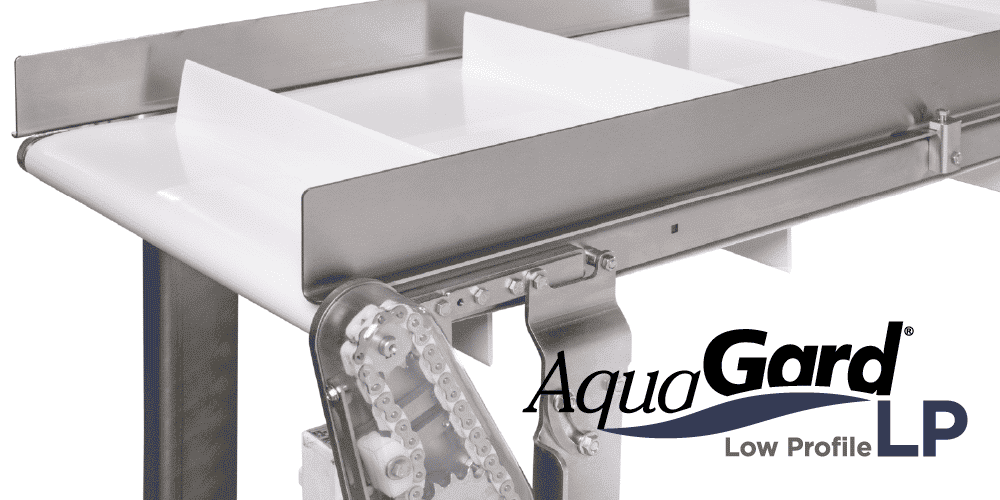 Dorner is showcasing new conveyor designs at PACK EXPO East 2022! Stop by the Philadelphia Convention Center, booth 1022 to see the AquaGard LP (low profile) live and in person, as well as the compact ERT150 pallet system. These two conveyor systems are designed to fit into tight spaces, and the AquaGard LP is an ideal sanitary conveyor for dry or wipe-down applications in pharmaceutical, confectionary, bakery, and other packaged food industries.
Dorner's AquaGard LP is the newest in the AquaGard sanitary conveyor series and is being showcased on Packaging World's Live at PACK EXPO East. The new design is engineered to meet only the highest sanitary standards, earning AquaGard LP the Baking Industry Sanitary Standards Committee (BISSC) certification.
This low profile, stainless-steel design includes compact 1.25 in. diameter end roller pulleys, so it can easily fit into tight spaces between machinery and be safely operated with employees in proximity. And, of course, the AquaGard LP comes standard with the tip-up tail design, making is easy for operators to access and clean the frame and under the belt.
Finally, our in-house built v-guided belting ensures accurate belt and product tracking, while maintaining proper belt alignment throughout the system. Additionally, the enclosed tensioning system keeps consistent belt tension, and is simple to adjust for smooth, fast cleaning.
Features & Dimensions
Compact 1.25" end roller pulleys
Tip-up tails
Fast disassembly for cleaning
Toolless, flexible guiding options
Widths from 70 mm to 457 mm (2.75 in. to 18 in)
Lengths from 700 mm to 5,500 mm (27.5 in to 18 ft)
Load capacity up to 22.7 kg (50 lbs.)
Available with cleated, flat, high friction and other belt options
Dorner is one of over 400 exhibitors at PACK EXPO East 2022, from March 21-23. Be sure to stop by booth 1022 to see our new conveyor demonstrations and if you've missed us this week, you can still see us at WESTPACK 2022 in Anaheim, CA, April 12-14.