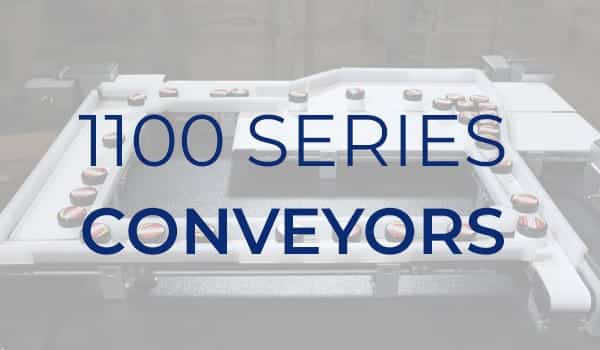 Are you looking for a conveyor to move small or lightweight product? Do you need a conveyor to designed for small spaces or to integrate into your machinery? Dorner's 1100 Series Conveyor may be the perfect fit!
The 1100 Series conveyor platform has a compact design featuring a 3/4″ frame height, making it one of the smallest conveyors available today. This low profile enables the conveyor to fit into the tightest of spaces, freeing up valuable machine or worker space.
The 1100 Series is designed for lightweight or very small product movement and is Cleanroom Class 100 Certified, making it ideal for medical, pharmaceutical and life sciences applications. Take a look at the 1100 Series in action and read more about its unique benefits below.
Features:
Low Profile Height – Compact miniature design frees up valuable machine or worker space
Small Roller Diameter – Optimal size for the handling of small parts and transfer of small parts
Clean Room Certified – Class 100 certified for use in medical and pharmaceutical clean room applications
T-Slot – Drop in T-bar for ease and flexibility in mounting automation components or accessories
Backlit Capability – Backlit conveyor with an LED light is ideal for inspection and quality control
Pinch Drive Design

Low belt tension virtually eliminates belt stretch providing maintenance free operation
Belt is tracked continuously with unique frame design, cams, and pinch drive for consistent performance
Drive is reversible, providing maximum flexibility in applications
Two halve design with one fastener per side allows cover to pivot for fast belt change
T-Slot for flexible mounting
Spring tensions belt around drive pulley for 180° of wrap
Learn more about Dorner's 1100 Series Miniature Conveyors.