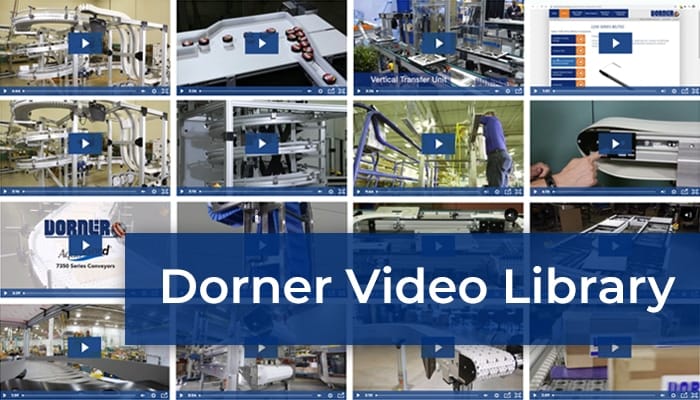 While photos of conveyors are nice, nothing beats seeing them in motion. That's why Dorner has an extensive video library showcasing our conveyors in action. We have videos highlighting our different products, how-tos on servicing conveyors, custom projects we've designed and built and informational videos.
Head over to our video page to scroll through our entire library or take a look at some examples below.
Engineered Solutions
Dorner's Engineered Solutions Group (ESG) focuses on designing custom solutions to solve any product handling challenge. Solutions range from product routing/manipulation, diverting/laning/merging, singulating, accumulation/buffering, pacing/gapping, and much more!
Frozen Pizza Application
For this application, Dorner worked with a company making frozen pizzas to create a completely custom system with a total of 71 conveyors! The conveyors needed to take multiple sizes of pizzas through and between processes such as freezing, wrapping, inspection and more.
Watch our Engineered Solutions Videos
Service Videos
Dorner's service videos walk users through processes such as setting up and installing their conveyors and basic service tasks including belt changes, belt tensioning and tracking and replacing parts.
AquaGard 7350 Series Belted Set-up & Installation
The AquaGard 7350 Series is Dorner's go to conveyor for wipe down and low pressure wash-down sanitary applications.
This video demonstrates how to:
Attach the stands
Install return roller
Install gearmotor and control
Attach the guiding
Product Videos
Dorner creates videos for all of our products to demonstrate what the conveyor looks like in action and provide basic info on each product line.
ERT250 Conveyors
Dorner's precision edge roller pallet and tray handling conveyors provide efficient, non-contact zoning for medium & heavy load assembly automation applications. They feature a clean, open roller design and are ISO Class 4 approved for cleanrooms.
About Dorner Conveyors
Whether you're new to conveyors or have been buying them for years, this is a great place to start. We have videos that will introduce you to Dorner, teach you about conveyors, and show you what makes Dorner different.
Belt vs. Chain Conveyors
One of the first considerations when choosing a conveyor is the belt. How do you know which type of belt is right for your product and application? One major decision is whether you want a fabric belt or chain.
Watch our About Dorner Conveyors Videos
Events and Trade Shows
Have you wondered what it's like to visit Dorner at one of the many trade shows we exhibit at each year? Check out our events and tradeshow videos to get a glimpse and then make sure to visit us in person soon!
PACK EXPO 2019
PACK EXPO 2019 is one of the largest packaging events of the year. With over 30,000 packaging professionals and 2,000 of the top industry suppliers, we always look forward to displaying our wide variety of conveyor solutions for the packaging and processing industries.