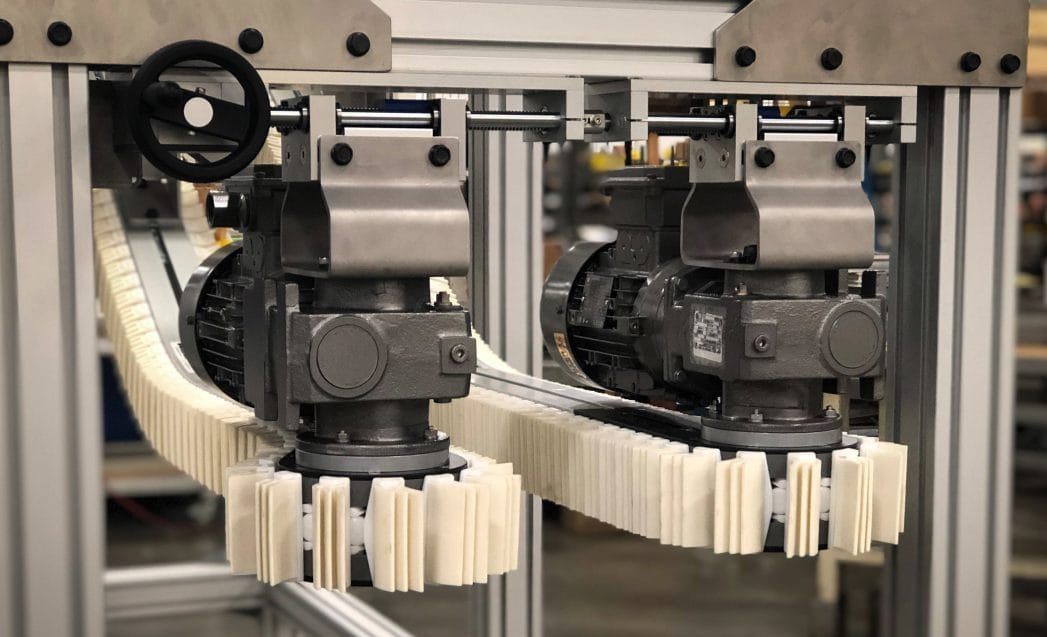 In most facilities, space is a premium, and conveyor location is often dependent on machinery and facility design. At Dorner, our goal is to simplify your processes rather than impede them. We have several solutions designed to give you more floor space and easy access to both machinery and other areas of your facility.
Our Wedge Conveyors are engineered to take products from the production floor level to a higher level or vice versa. Products are wedged between opposing conveyors that are aligned vertically or horizontally and are moved swiftly and securely.
Recently, Dorner was presented with an application to move different sized, round bottles lower from a conveyor that was already within the facility. The key was finding a design that would adjust to multiple bottle sizes and allow ample room for interfacing conveyors.
The solution was a FlexMove Wedge Conveyor constructed with two parallel FlexMove conveyors utilizing a urethane gripper -5B chain, and unique placement of an adjustment actuator.
The -5B chain consists of heavy-duty angled fingers that are best used for rectangles, round, and irregular shaped products. Adjustment actuators are typically placed underneath the two conveyors, but this particular application the adjusters have been placed above to allow room for the discharge conveyors. This also resulted in a reduced number of right-angle gears which in turn became a cost-saver for the customer.
Learn more about Dorner's FlexMove Wedge Conveyors and contact us today to find out how we can create a custom system to suit your needs.