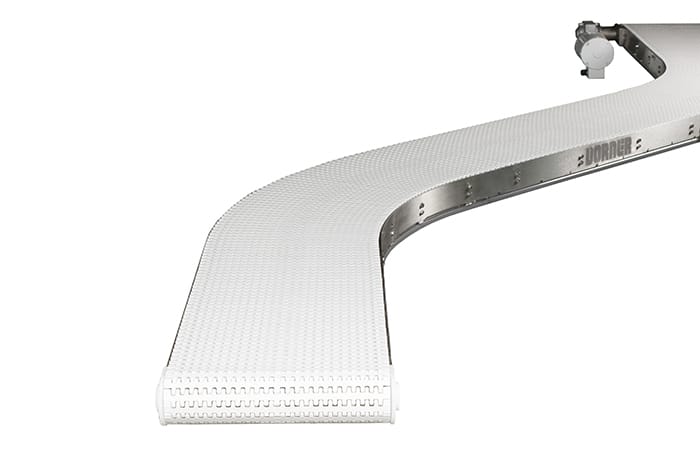 Dorner's AquaGard 7350 Series Conveyor is engineered for industry standards and excels at safety and performance. The new conveyor platform comes in straight belt, as well as modular belt straight and curve models.
The modular curve model features the safest, most advanced modular curve chain conveyor in the industry today. The modular belt curve conveyor has no openings greater than the international standard of 4mm, even within the curves, which increases safety by eliminating pinch points for operators.
In addition to the safety features of the modular curve model, it also features the shortest infeed and outfeed lengths on the market today, allowing the compact curve footprint to fit into spaces which no other competitor can.
With infeed and outfeed sections as short as 457 mm (18 inches), the conveyor is able to fit into tighter spaces and make tighter turns. This allows customers to save space on their production floors or fit the conveyor among pre-existing machinery. Also, the innovative curve chain with center bearings helps eliminate friction and allows up to 4 curves on a single conveyor.
The AquaGard 7350 modular curve conveyor is available in angles of 45°, 90°, 135° and 180° and the mold to width chain comes in widths up to 457 mm (18 inches).
Learn more about Dorner's AquaGard 7350 Series modular curve conveyors.